Easter Island is located in the deep South Pacific and situated on the eastern corner of the so-called "Polynesian Triangle". It is considered one of the most inaccessible places on Earth. The official discovery of the islands dates back to the Easter Sunday on April 5th, 1722, when a fleet led by Dutch explorer Jacob Roggeveen made a landing on the island. Back then the island was inhabited by Polynesian settlers, who first arrived at the island around 400 C.E. and called it "Rapa Nui". In 1888 Chile annexed Easter Island and since then Easter Island became a remote Chilean territory in the middle of South Pacific.
With time early Polynesian settlers have long vanished and left no written records. What is left is giant, mystical monolithic statues spread across the island and oral legends. To date, those statues still baffle scholars as why they were erected and attract tourists worldwide.
Due to its extreme geographic isolation from major continents, Easter Island is only served by LATAM with one daily flight to Santiago de Chile and one weekly flight to Tahiti, another Polynesian settlement site. Understandably the monopoly of LATAM leads to very high airfare (especially during peak seasons) to the island.
However, back in summer LATAM released a great premium cabin deal out of Mexico City (HT: One Mile at a Time). For ~$1,200 you can fly roundtrip in LATAM's lie-flat business class to ANYWHERE in Chile, including Easter Island. So I grabbed two tickets (MEX-SCL-IPC-LIM-MEX) for my wife and myself for Thanksgiving. The first three legs would be operated by LATAM's 787, which I have never reviewed before.
Now the question is how to position myself to and from MEX. For the outbound, I booked a non-stop flight from JFK to MEX on Delta. The return flight, however, needs to get more creative. Looking at the map one day, I said to myself, "since we'd be in Peru anyway, why not go to Machu Picchu?" All of a sudden it occurred to me that I didn't have to fly all the way back to Mexico City. A side trip to Machu Picchu seemed both appealing and viable.
To get to Machu Picchu I would have to get to Cusco from Lima, which is a short 80-minute flight. LATAM serves this routes with multiple flights per day, and it only costs 4,500 British Avios plus minimal taxes and fees to redeem one. What a deal! Finally I need to figure out a way from Cusco back to the States. Luckily Avianca has availability on its CUZ-BOG-JFK routes and that would require only 35,000 United miles. Eventually my itinerary ended up like this:
The ticket shows my booking in Z class, which would earn 225% of the miles flown when credited to Alaska Mileage Plan. With my Alaska flight taken earlier this year, I would achieve Alaska MVP status and earn ~$400 worth of Alaska miles. Such a deal seemed too good to be true.
But as Thanksgiving approaches, I knew the dream is about to come true.
1. MEX-IPC LA621 787-8 Business Class Review
Our LA621 that day was operated by a Boeing 787-8 Dreamliner. It departs at 6:55 pm local time and arrives at 6:15 local time next day. The timing of this flight is very jet-lag-friendly, as you could sleep after having dinner. Or better yet, you could have dinner before boarding and go straight to rest.
LATAM 787-8's business class has five rows of 2-2-2 lie-flat seats. Nowadays we see many innovative and revolutionary business class products such as Qatar's QSuite and United's Polaris seat. Frankly LATAM's business class seats are just slightly outdated.
At any rate, this is a solid business class product. Our seats are right behind the emergency exit, which according to Seatguru gives you additional foot space. However the added space feels pretty negligible.
The 2-2-2 configuration somewhat makes the cabin devoid of privacy.
A closer look at my seat. Sitting on top of it is a pair of noise-canceling headphone.
On this flight LATAM offers a pillow and a blanket, which were stored in the overhead bin. However I must note there was no slipper, pajamas, or mattress.
At lie-flat mode the seat still has an angle of maybe 5° and the back can feel some protrusion. Without a mattress the level of comfort is adversely affected.
The seat has limited storage, but between the footrest there is some storage space with door that can be shut down. It can nicely fit small electronic devices such as smart phones.
AC power outlet and USB port are hidden in the back corner of the seat.
The second storage space (a pouch) is located above the IFE controller. However the bottom of the pouch is detached from the wall, meaning nothing can really stay inside. On my way back I found similar issues on another 787-8. It makes me wonder if it is my bad luck, or LATAM's lack of proper maintenance, or the flaw of seat designs.
Flight attendants offer sparkling wine, juice, and water as pre-departure drinks, along with nuts.
Boarding was swift and the flight departed on time. Right outside my seat is the engine, so expect some considerable noise here. At cruising altitude the noise level on my seat is 62.5±0.9 (2σ) dB.
About 20 minutes after takeoff the cabin crew started working while the airplane was still climbing. This must be the shortest wait time between takeoff and the preparation of service.
Sadly the service was extremely slow. From takeoff to the completion of meal, I spent 2 hours! While onboard I guess this must be individual difference, but later on my flights to and from Easter Island similar situation arose. For an eight-hour flight spending three hours on two meals means less than five hours of sleep, which is apparently not ideal. I really hope meal service could be faster.
Speaking of the food itself, I must say LATAM's catering is good. Below is my spinach soup with sour chili, which is tasty and refreshing.
I ordered another glass of sparkling wine and a glass of Pisco Sour.
For entree I selected chicken stuffed with foie gras. However the chicken was quite bland. My wife on the other hand had beef tenderloin and that was juicy and well-cooked.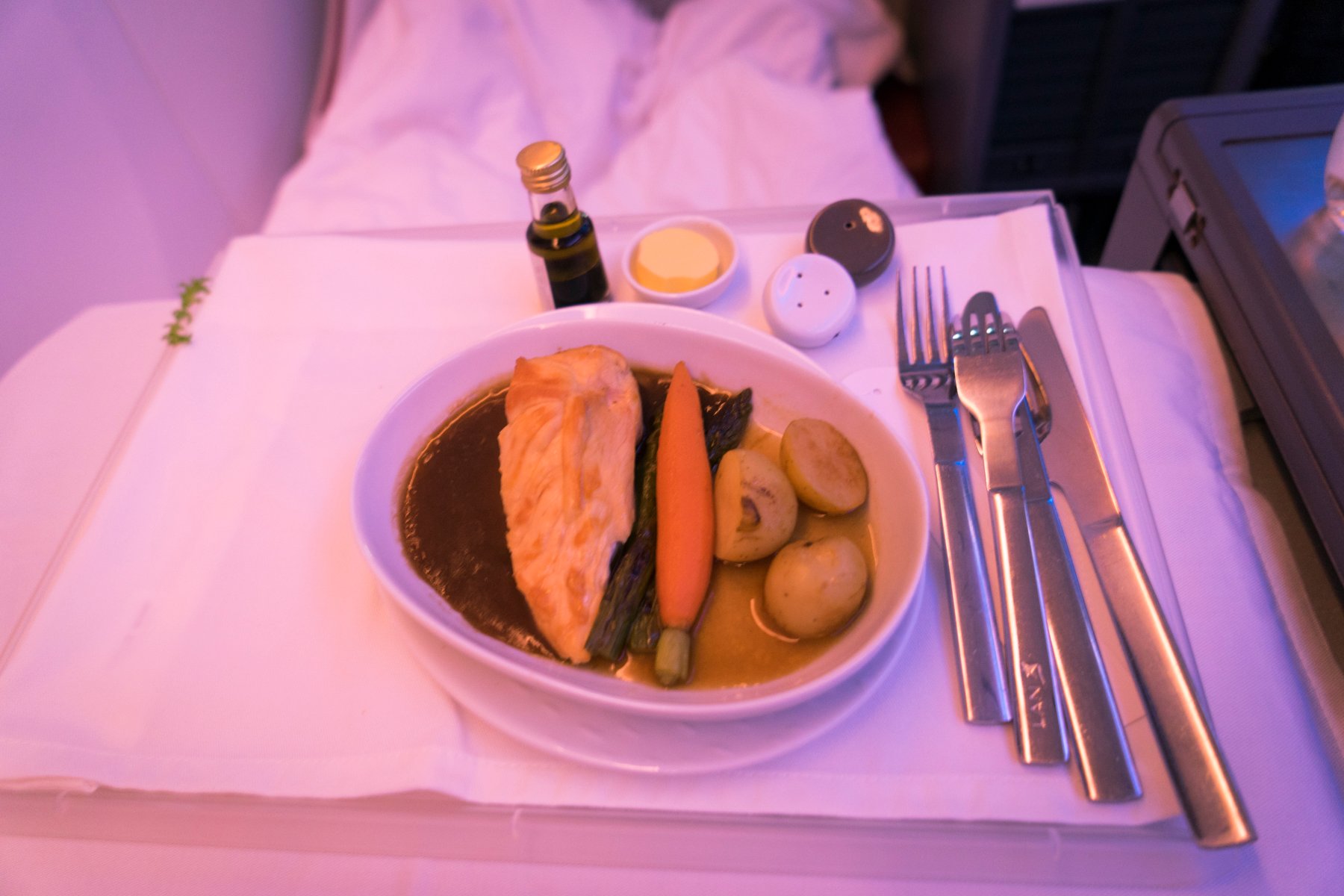 The dinner ended with dessert, for which I chose some ice cream.
As soon as I finished dinner I tried to sleep. At row 4 the noise level is not negligible so I got about three hours of sleep before waking up. Then I went to check out the lavatory at the front of the cabin.
Sitting at the corner are some simple amenities, including hand lotions, wet napkins, plastic glasses, and a bottle of perfume.
Then I tried to get more sleep, until around one and half hour prior to landing, when breakfast service started. I ordered an omelette, some fresh fruit (which was great), and some pastries.
We arrived at the gate at around 6:00 am. Since it was dark outside we cannot enjoy the view. However if you are approaching from the North into SCL during day time, be sure to sit at the port side of the aircraft. The view of high Andes is simply amazing.
We had three hours of international to domestic connection time, but clearing the immigration and customs went very smoothly. Less than 30 minutes we were on the departure level, waiting to catch our next flight to Easter Island.
2. SCL-IPC LA841 787-9 Business Class Review
LATAM's 787-9 has six-abreast seating in a 2-2-2 configuration, similar to its 787-8. The seat itself is exactly identical to what Air China offers on its A330. Again this is not industry-leading anymore and frankly the seat has very poor privacy. Nonetheless I find this seat has incredibly spacious foot space, something that reverse herringbone desperately lacks.
I seated at a window seat. That means I had to step over my wife to get out, which was fine. However, if I'm traveling solo this wouldn't be a great thing.
On this five-hour flight LATAM offers pillow and blanket, but no pajamas or slippers. OK by the standard of a domestic flight.
The amenity kit is very simple: an eye mask and a pair of socks. The bag itself could turn into a small laundry bag.
The aircraft has individual air nozzles.
At around 9:30 am local time we got pushed back, around which time an Avianca 787 that just landed taxied to the gate.
Taxing and takeoff were smooth. Before we knew it we were airborne.
A couple of minutes later, the pilot turned the aircraft to the west and from my window I could see the magnificent high Andes in the distant background.
Soon afterwards the mood light turned pink and blue. Even now I don't quite get it why LATAM chooses such coloring schemes. According to Boeing the mood light on 787 can mimic sunrise and sunset to better allow travelers to have some good rest. That I buy it, but on LATAM, why pink?
On this flight breakfast is available, but again I find the service to be excruciatingly slow. For a five-hour flight I really didn't want to spend almost half of it on some re-heated food. So I went ahead and took a nap quickly after takeoff.
I slept perhaps for two hours. To my delight, flight attendants asked me if I still wanted to have breakfast. The food itself is not very impressive, though again this is a tourist-heavy domestic flight. Consequently it wouldn't come as a big surprise that you don't get luxe food.
Upon finishing breakfast I started working for a few hours. Soon enough we started the descent.
Before the final approach the aircraft made a U turn north of the island to land from west to east. Sitting on the starboard I missed the island on the turn, but did shoot some photos upon landing.
We taxied to the very end of the runway and again made a U turn, as Easter Island airport has only one runway.
While taxiing I noticed an Airbus 340 of Air Tahiti Nui. Interestingly TN does not offer regular commercial service to Easter Island. Perhaps this is a chartered flight?
Easter Island has no jet bridge so everybody disembark via ladders.
I also got a nice view of the Trent 1000 turbofan engine. The core combustion room is actually quite small. Such a design with large bypass ratio allows better fuel efficiency and less noise.
The "terminal" at Easter Island airport is really just one small single-story house. The tunnel on the left leads to boarding areas and on the right leads to baggage claim.
One benefit of flying into such a small airport is the ability to watch a plane unobstructed. This is especially the case when the plane of interest is as aesthetically appealing as 787-9.
To summarize, perhaps I had too much expectation in LATAM, both flights slightly disappointed me. Don't get me wrong: it is a solid business product with lie-flat seat and good food. However there are several aspects that I'd like to emphasize in which LATAM could do much better.
For one, the service could and should be MUCH faster. If I had to choose between crappy food with faster service and Michelin-starred food that requires waiting forever, I'd definitely choose the former. After all, the whole purpose of business class, in my opinion, is getting to the destination well rested.
Secondly there was no slipper. If the lack of pajamas and mattress is a first-world problem, then no slippers on an eight-hour intercontinental flight seems a bit too cheap. That is why I think Cathay Pacific's business, despite great seating, is not really top-notch in the trans-Pacific market.
On the plus side, LATAM has good food for business class. As an Asian I'm inherently biased in favor of Asian food, but South American cuisine, especially Peruvian, is as diverse as the geography. From the rainforest to the Andes mountains to the Pacific coasts, South America has a full suite of delicate cuisine waiting for you.
Finally, as a plane 787 is really the marvel of modern technology. The cabin is noticeably more comfortable than older-generation twin-engine long-haul aircrafts such as 777 and 330. The higher cabin pressure and humidity make a great difference.
3. Easter Island at a glance
Easter Island is undoubtedly famous for the giant statues (moai). Throughout the coastline of this tiny volcanic island you could easily spot them. With 4 m in height and 13 tonne in weight, it remains a mystery how early Polynesians could possible transport such a huge monolithic structure. It also makes one wonder why settlers built them. Well, according to local legends, those moais were built to remember important figures and let their spirit protect the people.
Usually a varying number of statues sit on top of the stone platforms, called Ahu. Below is Ahu Tongariki, which consists of 15 moais facing westwards. It the largest array of moais on the island.
Ahu Tongariki is also a great spot to shoot sunrise.
Standing next to Ahu Tongariki is "the traveling moai". Because Japanese government and corporations offered financial support in the restoration of moais on the island, Chilean government once sent this moai to Japan for a world fair, which gave its name. The traveling moai and Hoa Hakananai』a (the one in the British Museum) are the only two moais that have ever left Easter Island.
While most of the moais on the island faces inland, Ahu Akivi composed with seven moais face towards the ocean. It also has astronomical purposes: in every spring equinox they face precisely the direction of sunset.
Easter Island has one major town, Hanga Roa, on its west side. Around the town there are many moais as well. Perhaps the most famous is Ahu Ko Te Riku, a quick 10-minute walk from the town center. Note the damage in the middle moai; around 18th century almost all moais were toppled and lots of damage made. A restoration project later went underway and finally brought back the standing moais we see today.
Driving along with the east coastline of the island you will spot some moais that are not restored.
All moais on the island came from the hill of Rano Raraku, a volcanic crater. Local people would carve a statue out of the igneous rock, erect them, and finally ferry them elsewhere. There are many maois still sitting on the hillside. Some are completed, some not. Yet they were never transported out of Rano Raraku.
Lichen grows on the surface of the moais as time goes by.
Below you could see the protrusion of the lips. The curvature is strikingly smooth.
On the statues are some feature that could easily go unnoticed. For instance many moais have both hands holding the belly, under the navel.
Some moais have hat, or as Polynesians call it, "pukao", made of red volcanic scoria. Such headdresses are interpreted to reflect the high status of the individual represented.
Aside from moais and relics of aboriginal culture, Easter Island is just another volcanic island. It's geology reminds me a lot of Hawaii, another Polynesian island. Additionally, the native vegetation on Easter Island has largely became extinct since Polynesian settler arrived and the island ecosystem mainly contains imported species.
All in all, were it not for those mystical moais, Easter Island is not the best island vacation destination. After all it is so remote and inaccessible and expensive. That being said, if you, like me, are into adventures and unsolved mysteries, Easter Island will not let you down.
---
Share this post with friends
If you like this post, don't forget to give it a 5 star rating!