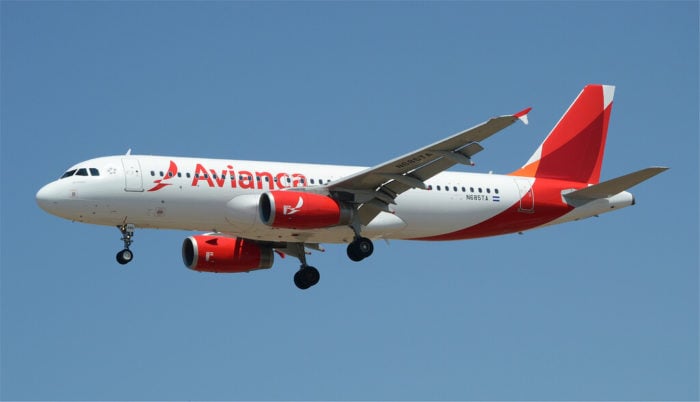 Today we』ll introduce how to use Avianca Airlines miles. Avianca Airlines (AV, for short), founded in 1919, is Colombia』s national airline. Headquartered in Bogota, it joined the Star Alliance in 2012. It is also the second-oldest airline in the world, just behind Royal Dutch Airlines, KLM. The mileage points in AV is called 「LifeMiles」. As we all know the United Airlines (UA) mileage doesn』t charge fuel surcharges, while most of the Mileage Programs do. Even the popular Asiana Airlines (AA) mileage charges high fuel costs to British Airlines (BA) and Iberia Airlines (IA). This is why you rarely hear anyone use AA to go to BA. Is there any other Mileage Program that does not charge fuel surcharges except UA? The answer is AV who is also a member of Star Alliance as UA. According to the Points Guy』s latest theories published in September, 2015, one AV point values 1.7, higher than Air Canada (AC)』s 1.6, UA』s 1.5 and All Nippon Airways (ANA)』s 1.5. It values the highest in Star Alliance. As we are in the United States, there are just a few ways to get AV mileage. The three most common ways are: take an airplane, apply for a credit card and buy air miles. These ways work for AV , too. Many students lack air miles but still want to spend less money on first-class or business-class tickets, so they have to run the risk of going to the secondary market to find someone who can issue the tickets to them. There is a great risk in it. So I recommend AV mileage programs to them: buy one and get one free every year; 150000 miles or more each time. You will find great pleasure in buying it! It is a bargain, sometimes even much cheaper than the UA and AA miles you buy on secondary market. It is easy and convenient to go by taking Star Alliance』s flights. Besides, there is no fuel surcharge!
1. How to Get AV Miles
1. Take Star Alliance』s airplane. Like most of the air miles in the world, the air miles are accumulated in line with the flying distance and the classes. If you want to know more information about the accumulation, please click here.
Accumulating AV miles by flying UA
| | |
| --- | --- |
| UA Classes | % of miles to accumulate |
| First Class | 200% |
| Full-fare Business Class: JCD | 125% |
| Discounted Business Class: ZP | 100% |
| YBMEHQUVW | 100% |
| STKGNL | 50% |
We have to say the cumulative proportion is just fine. We can only get 100% accumulation of air miles if we buy business class or full-fare economy class. However, the AV mileage accumulation of the classes with lower price is no less than UA mileage accumulation of AC and OZ. Therefore, AV points are more valuable, why not hold it? Taking a brief look at the post for AC Miles, if we take a non-full fare economy class UA flight, the points we get from AV are no less than the ones we get from AC. That means the cumulative proportion is the same: 100% for W-M class and 50% for class under W. In fact, the UA accumulation in most of the Mileage Programs in Star Alliance, including OZ and TA (Turkish Airlines), are very similar.
Accumulating AV miles by flying Air Canada (AC)
| | |
| --- | --- |
| AC Classes | % of miles to accumulate |
| Full-fare Business Class: J | 150% |
| Discounted Business Class: CDZP | 125% |
| YBMUHQVEN | 100% |
| WG | 50% |
| SKLTA | 50% international flight,0% domestic flight in Canada |
We are shocked once again by the stinginess of the AV accumulation in the first/business classes. However, as we have said before, the accumulation can be accepted in low-priced classes like SKLTA. So it is the same proportion 50% in any airlines, why not choose the more valuable AV of 1.7 cents? However, you have to just give up the AV accumulation if you take the domestic flight of AC.
Accumulating AV miles by flying Air China (CA)
| | |
| --- | --- |
| CA Classes | % of miles to accumulate |
| First Class | 200% |
| Business Class | 150% |
| W | 110% |
| YBMHKL | 100% |
| QGSVUTE | 50% |
It is easy to find that the AV accumulation in the first and business class of the CA flight is satisfactory compared with that of UA and AC. the Latin American people deserve to be the best friend of Chinese!
You can get 20k miles once the card is available, and it has no consumption requirement as long as you swipe it once. The annual fee is $70, and you can get 6k AV miles every year. But you need to note that only when the 「visa signature」 is approved can you get 6k points. If you get permission in ordinary card, you can only get 3k every year. Besides, you can get 2 points when you buy AV miles and 1 point if you have the ordinary consumption. That means you』ll buy 7000 points of AV with the price of 1.17 cent each mile every year. It is good! But it will be much better if we can get 10k when we give $95 as annual fee.
3. Buy AV Miles. It is the best way to get the most AV miles. You can click the official website of LifeMiles to buy miles.
Notice: when you have registered AV account, you can buy AV miles one week later. We noticed that the original price is $33 for 1000 points. Don』t worry! There will be time-limited sales promotion one or two times a year. So it only takes $1650 for 100,000 miles, which means just 1.65 cents on each point, which is less than the estimated 1.7c by TPG. What』s more, there was a buy-four-get-five activity on Thanksgiving Day last year. Besides, now you can get 145 if you buy 100 with the price cut down to a low level of 1.35c. It means you can buy the miles of the original price of 1.7c with only 1.35c, don』t you think it is a good deal?
2. How to Use AV Miles
The following form is the award chart of AV miles. We have concluded the common exchange. The figures in the form are all the required miles for round trips (unit set as k). One-way trip is allowed in AV miles even within the same area. (Do you remember that one-way trip is only allowed within North America in UA and AC and in ANA one-way trip is totally not permitted?) Of course we know that the flying miles of one-way trip is half of the round one. We have listed the required AV miles, UA miles and AC miles for the exchange of the flight within the same areas. The former ones of UA means the airplanes are flown by American and the latter means by Star Alliance. Certainly, the division of the areas varies from mile programs to mile programs. For example, the north Asia in AC is wider than that in UA and AV. The Europe in AC means Western Europe while in UA and AV it includes Eastern Europe and Western Europe. Here we will not explain it in detail.
The following is the area division of AV.
North America—U.S. and Canada; North Asia—Mainland China, Hong Kong, Taiwan, Japan, Korea and Mongolia; Oceania—Australia, New Zealand and all the other Oceania countries.
Economy Class
Business Class
First Class
AV
UA
AC
AV
UA
AC
AV
UA
AC
North America
25
25
25
50
50
50
70
70
70
North America-North Asia
70
70
75
150
140/160
150
180
160/240
210
North America-Hawaii
45
45
45
80
80
80
100
100
110
North America-Europe
60
60
60
126
115/140
90
174
160/220
125
North Asia
30
30
20
45
45
30
230
60
50
North Asia-Western Europe
90
90
75
150
130/150
105
145
160/230
145
North Aisa-Oceania
40
40
60
80
70/80
90
100
90/100
130
It is easy to find from the chart that it has obvious advantage in AV to go to Australia, New Zealand and South Pacific from China. But it is a pity that the tickets of the business class of China-Australia are in short after many people find the trick. China-America flight is very reliable: It is not flown by UA. Compared with AC which charges fuel surcharge if we choose first and business class, AV in China-America flight course has many advantages. To tell you a secret, there will be sales promotion of AV in North Asia with 20k of round trip in economic class and 30k in business class(North Asia in AV is narrower than that in AC). The proportion is the same as AC. But you can take one-way trip in AV without fuel surcharges!
Now we』ll see together how to buy tickets. Go to the official website of LifeMiles, click Enjoy and then click Air Ticket, you can buy one.
The AV system can appoint Preferred Carrier, which can not be done by other Star Alliance searcher. Noted that you need to accept the ticket you buy on the internet. It is no use to call the Customer Service. So it is fair for everyone and you will not be cheated!
There is another fantastic function in AV mile. It allows C+P (cash +points)! You can use cash to directly buy 60% of the exchange miles in the highest level. For example, you can see in the following chart that the round trip of business class of UA in Shanghai- New York is 150k, and you can buy it using 60k at least and $1416.24. It means you buy the miles with the price of 1.57c. A great deal!
Now we can see the business class on China-Australia flight course, the one-way trip is 40k. It is great! But the first and business class is really hot, and you need to be lucky enough to get a business class ticket. According to some reports on the Internet, you can』t buy the CA flight ticket on the AV system. We don』t know when they will fix this bug.
Another good news! You can get the first and business class tickets of the new flights that fly overseas in AV. UA, AC and ANA can not make it. Besides AV, only SQ itself and Lufthansa can sell the first-class and business-class tickets, and these two mile programs charge high fuel surcharge!

3. Expiration of AV Miles
If your miles have any change, their validity can put off 24 months. Note that AC can only put off 12 months, UA and AA 18 months and BA 36months.
4. Summary of the Advantages and Disadvantages of AV Miles
Now, let』s see the advantages of AV mileage.
No fuel surcharges. If you take the airplane of ANA, CA or KA, it has less miles in first and business class than that in UA, and it can save the fuel surcharges compared with CA.
It allows C+P and it can adjust the proportion between cash and miles.
The round trip is only 40k/80k/100k from China to Australia, New Zealand and South Pacific like Tahiti.
You can find the first and business class of the ocean routes in Singapore Airlines.
You can buy 150k Miles at once, at ratio 1:1 or even 1:1.45 (1.35 cents/mile), it's the lowest price among all miles, much lower than UA 1.88 cents/mile or AA 2.0 cents/mile.
It's easy to operate.
One-way trip is allowed even in the same area.
The Points Guy estimates that the price is 1.7cent/mile, which values the most. It is a good choice for the students who are not rich but want to buy the first or business class.
Then, let』s talk about the disadvantages of AV mileage.
People in U.S. can only buy miles or open the card of US Bank, they can not exchange the points through the Four System.
You can only buy the tickets on Internet, so you have to accept anything from the system.
If you need to call Colombians to change the tickets, you』d better say Spanish fluently.
There are some problems with the system sometimes. For example, it often happens that you can』t change the ticket for the business-class one in China-Australia flight course. And you often can』t get the tickets of the domestic flight on the system. But other China-America flight courses are reliable.
you can』t get the stopover so there』s no way to cheat.
It is said that you can』t get the ticket of transfer flight that is more than 4 hours and you need to ask the Customer Service for help.
You can』t buy mixed class tickets, which means you have to buy either business-class ticket or economic-class one for same period. It brings us trouble to find the mileage tickets. For example,on Shanghai-Tokyo-New York flight course, we may want to buy the business-class ticket from Tokyo to New York with little care about the ticket from Shanghai to Tokyo. However, if you buy tickets on AV system, you can』t get the business-class one from Tokyo to New York if there is no business- class ticket from Shanghai to Tokyo.
---
If you like this post, don't forget to give it a 5 star rating!